TKO Tramp Oil Separators
Rapidly removes tramp oil. Filters and cleans the entire sump.
Advantages:
Extended tool life, improved parts finish
Smoke and odor eliminated.
Multiplied coolant life = Much less machine downtime, greatly reduced coolant purchase
& disposal costs.
Sets up in minutes – Requires minimal operator attention.
Exclusive Keller Features:
Patented permanent oil separating (coalescing) element, never needs changing.
Rugged high flow 1/2" air-operated pump provides rapid tramp oil removal, circulates
& aerates entire sump.
Compact inlet device can access any pump.
Air operated, requires no electrical connections.
Selection and Ordering Information
| | | | |
| --- | --- | --- | --- |
| Ordering Designation | TKO-6 | TKO-10 | TKO-14 |
| For Sump Sizes (gallon) | 25-150 | 25-200 | 50-250 |
| Footprint (all models) | 14" x 14" | 14" x 14" | 14" x 14" |
| Height | 24" | 30" | 36" |
| Weight (empty) | 35 lbs. | 37 lbs. | 43 lbs. |
| Compressed air requirements (all models) | 0.5 SCFM @ 20 psig | 0.5 SCFM @ 20 psig | 0.5 SCFM @ 20 psig |
| PRICE | $1495.00 | $1595.00 | $1695.00 |
Accessory Items (All Models)
"Cling-On" frame with magnets, to mount TKO-6 to side of machine tool (CLO-1)
Replaceable filter element, 150 micron, 10″ long (R10-3150)
Optional Bag Filter, with 5 filter bags (BA-0475-TKO)
Pack of 5 25 micron filter bags for BA-0475 (RAP-25)
Automatic Timer for Untended Operation of TKO Units (TBV-1)
Get these benefits:
Ideal for shops with limited compressed air supply
TKO unit can be run untended during off-hours
Eliminates operator involvement in daily TKO operation
Features Include:
Built-in 7-day programmable timer
Easy to program
Multiple cycles possible each day
Lithium battery protects program for five years
Large LCD display
How the Automatic Timer Valve Works
The Keller TBV-1 automatic timer ball valve, mounted on the compressed air supply to a TKO dedicated sump cleaner, will open and close the compressed air supply for a selected duration on a programmable schedule. With the TBV-1 valve, the TKO unit can be operated and shut down periodically with no operator attention.
Click for full size image
The self-priming air operated pump pulls the tramp oil/coolant mixture from the surface of the sump through the floating inlet device, then through a cartridge filter which removes any chips from the fluid. The oil/coolant mixture is then pumped through the patented Keller all-plastic separator element immersed in a separator tank. The cleaned coolant continuously returns to the sump. The oil layer collects on the top of the separator tank and is occasionally drained into a waste oil container, simply by opening the oil drain valve. To clean the Keller patented coalescing pack, simply unthread the disc pack from the coupling and wash. Then re-assemble.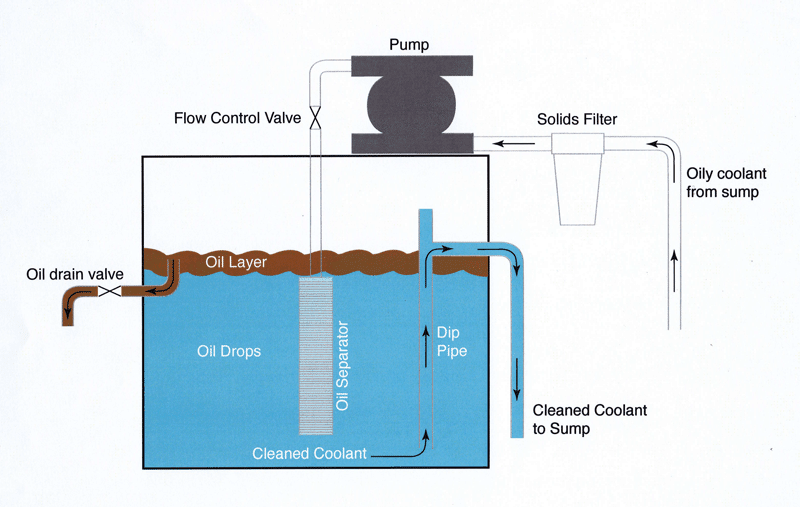 How much money will you save?
About $4000 per sump, per year
Payback 3 months (or less)!